Party Bus Tacoma

A party bus is a large vehicle generally derived from a traditional bus, but is modified and specifically designed for diverse recreational purposes, such as birthday celebrations, prom events or graduation parties. Party buses have become a preferred choice of many Tacoma, WA residents today and this is why many individuals seek party bus rental services.
We, at FunWayToGo, LLC offer proficient party bus rental services in the Tacoma area. With an experience of so many years, we provide you with the most suitable party buses for transportation, enabling you to party to that wedding while we drive. Whether you are commemorating a special occasion or simply wish to have fun with your friends, you can count on our party bus rental service in the Tacoma area for your guests since we offer:
Affordable party bus rental service
Flexibility to choose from multiple party bus rental options
Reliable party bus rental service
Pleasant transportation service
Prompt party bus rental service
Suitable party bus rental options to suit your preferences
Party Bus Rental Tacoma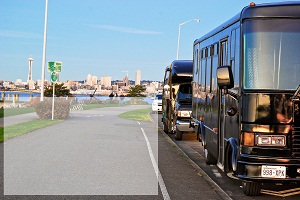 Party buses have become an ideal option to celebrate any special event in Tacoma. Not only are party bus rentals comfortable, the facilities offered by them enables you to enjoy your event to the fullest. Moreover, when you can select from diverse party bus options, going for party buses certainly makes a wise choice in Tacoma.
When you realize the need to hire a party bus in the Tacoma community, opt for our party bus rental service. We provide luxurious party buses for special events and occasions in Tacoma. Furthermore, our:
Party buses are equipped with amenities
Party buses are driven by certified chauffeurs
Party buses offer safe travel
Party buses are spacious
Party buses have comfortable leather seating
Tacoma Party Buses

When it comes to hiring a party bus in the Tacoma, it is vital to seek a trusted party bus rental service to truly enjoy your special events.
Providing clean and well-equipped party bus options, we successfully cater to the needs of the Tacoma residents. We are proud to have the cleanest and most opulent buses to meet your requirements. Our:
Party bus has a sound system
Party bus has LED lighting
Party bus is spacious
Bus can accommodate up to 34 passengers
Bus has a bathroom
To spend a fun day with your friends and family, hire a party bus in the Tacoma. Call FunWayToGo, LLC at 206-962-4862.